Reading Group for Shantaram, by Gregory David Roberts
Shantaram book cover
Starting May 4, 2017…
Metapsychosis: Readers Underground is hosting a group reading of Gregory David Roberts' acclaimed novel Shantaram.
David Gaian and Marco V Morelli will host a series of 9 live conversations, in addition to online discussions in our forum at InfiniteConversations.com.
Here is David and Marco's intro to the book and group:
To join, sign up for a Readers Underground subscription, which costs $2/month (or $20 for the year).
Note: If you're a Cosmos Co-op member, you already have access to this group included with your membership.
Reading Schedule
Start Date: May 4, 2017
Live Conversations
We'll do a weekly live conversation using the Zoom video conferencing app. The first live event is on May 4th at 6 PM Mountain Time (time-zone conversion).
All live conversations will take place every Thursday at 6 pm MDT, unless otherwise indicated. See the full reading schedule ».
These will be cooperative dialogues. After a brief introduction from David and Marco, we will open up the conversation and invite all to join in.
Online Discussion
There will be a dedicated channel for Shantaram on InfiniteConversations.com.
Each major section will have an open topic created by the moderator and posted each week. Readers are welcome and encouraged to expand the conversation with their own topics and replies.
About the Book
"It took me a long time and most of the world to learn what I know about love and fate and the choices we make, but the heart of it came to me in an instant, while I was chained to a wall and being tortured."
So begins this epic, mesmerizing first novel set in the underworld of contemporary Bombay. Shantaram is narrated by Lin, an escaped convict with a false passport who flees maximum security prison in Australia for the teeming streets of a city where he can disappear.
Accompanied by his guide and faithful friend, Prabaker, the two enter Bombay's hidden society of beggars and gangsters, prostitutes and holy men, soldiers and actors, and Indians and exiles from other countries, who seek in this remarkable place what they cannot find elsewhere.
As a hunted man without a home, family, or identity, Lin searches for love and meaning while running a clinic in one of the city's poorest slums, and serving his apprenticeship in the dark arts of the Bombay mafia. The search leads him to war, prison torture, murder, and a series of enigmatic and bloody betrayals. The keys to unlock the mysteries and intrigues that bind Lin are held by two people. The first is Khader Khan: mafia godfather, criminal-philosopher-saint, and mentor to Lin in the underworld of the Golden City. The second is Karla: elusive, dangerous, and beautiful, whose passions are driven by secrets that torment her and yet give her a terrible power.
Burning slums and five-star hotels, romantic love and prison agonies, criminal wars and Bollywood films, spiritual gurus and mujaheddin guerrillas—this huge novel has the world of human experience in its reach, and a passionate love for India at its heart. Based on the life of the author, it is by any measure the debut of an extraordinary voice in literature.
Buy the book: Amazon.com | B&N | Powell's
About the Author
Gregory David Roberts was born in Melbourne, Australia. A gifted writer and student, he became addicted to heroin when his marriage collapsed and he lost the custody of his daughter. When he committed a series of robberies with an imitation pistol, he was described as the Gentleman Bandit. Sentenced to nineteen years in prison, he escaped and journeyed to New Zealand, Asia, Africa, and Europe. For ten of those fugitive years he lived in Bombay-where he established a free medical clinic for slum-dwellers, and worked as a counterfeiter, smuggler, gunrunner, and street soldier for a branch of the Bombay mafia. Recaptured in Germany, he served out his sentence there and in Australian prisons. Upon his release, he established a successful multimedia company, and since the international publication of Shantaram, he is a full-time writer, at home in several countries.
[Source: Amazon.com]
Hosts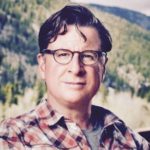 David Gaian is the co-founder and COO of Symbio Life Sciences, a Colorado-based Public Benefit Corporation. After more than twenty years of international consulting work in molecular science, bioremediation, fair trade, and global community development and more than thirty years of diverse planetary living, cultural immersion, and spiritual exploration, David and his wife Dasha have finally unpacked, settled down, and started a family amongst the welcoming "natives" of Wild Sage Cohousing Community in Boulder, Colorado.
Marco V Morelli is the founder and CCO of Cosmos Cooperative and creative director of Metapsychosis Journal. He studied Philosophy and Comparative Literature at Binghamton University, and worked for Ken Wilber's Integral Institute from 2003 to 2007, co-authoring the book Integral Life Practice, before leaving to follow the pathways of art. He is currently at work on a new book of poems, stories, and essays titled I AM THE SINGULARITY.
Participation
This reading is open to all Readers Underground and Cosmos Beta members.
If you're not yet a member, please sign up today!