Tempo – A Technology to Slow Time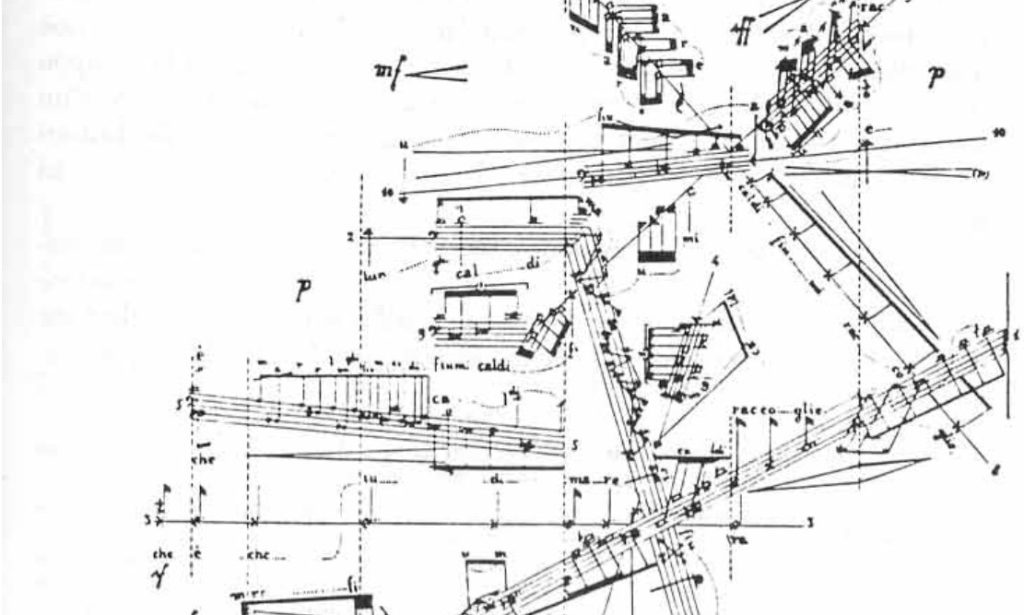 Part of the Siciliano Score by S. Bussotti
We have all experienced the different ways that the passage of time can appear to change speed. Boring or painstaking tasks that seem to go on forever, while the intense periods of adrenaline rush or the highs that go with the company of others can appear to flash by. Some of it seems to be a trick of memory—when we look back on periods of our lives they sometimes seem as if they were incredibly short. It's not just memory, however, but our sense of time in the moment as well. Studies in physics tell us that time is characterized by a variety of slowing effects, which become remarkable for vehicles or objects moving near the speed of light, but in our everyday lives these effects are minuscule. What if there was a way to induce time slowing using technology? That is, imagine you could apply some kind of a field to your body so that physical time slowed, but only within that field. We might call such a field, a tempo field, or simply tempo. 
In my science fiction saga, The Ido Chronicles, whose first volume (Plenum: The First Book of Deo) will be published shortly, I explore the implications and possibilities inherent in such a technology. One of the first considerations for science fiction is that such a technology could serve in lieu of faster-than-light (FTL) space travel, to allow humans to move through the galaxy within a single lifetime. This is, in fact, the reason I introduced the idea of tempo into my books, to avoid recourse to so-called FTL drives, whose scientific validity is questionable at best, despite all the speculation and discussion that has gone on. Since black holes appear to exist, it is possible that wormholes also exist, that is, ways of connecting distant parts of the universe together. However, such wormholes would also violate one of the basic principles of physics which has never been successfully challenged, the causality principle. Basically, causally-linked events cannot fall out of sequence by manipulation of reference frames and interaction modalities (this is sometimes called "cosmic censorship"). For wormholes to be consistent with this principle, they would have to lead to other universes and not to other locations in our own universe. It might be interesting to work out the details of inter-universe travel in this way, but it is not my primary concern. My way around these issues is to introduce the tempo time-slowing field which can be "cast" in suitable ways by an appropriately designed technology.
To explore the consequences of this unusual technology, I sought to develop a consistent understanding of how it might function and what its limits might be. I should begin by noting that the idea has been raised by scientists before. One paper I viewed proposed that an unusual spin-state might be imposed on elementary particles that could produce a time dilation effect.1Van Holten, J. W. (1992). Relativistic time dilation in an external field. Physica A: Statistical Mechanics and its Applications, 182 (1-2), 279-292. URL : https://inis.iaea.org/collection/NCLCollectionStore/_Public/22/061/22061418.pdf. In fact, a number of recent papers have proposed several types of time dilation due to quantum mechanical effects. These only result in small corrections to so-called classical time dilation, however. While this phenomenon is considered to be of limited scope, the idea appealed to me and so I adopted a variation of it for the underpinnings of my tempo technology. The point is, in a way, to introduce a field that reproduces the temporal slowdown one finds in relativistic time dilation, without needing to impart a high velocity to the particles. Instead, it is the unusual spin-state that is applied. 
I also worried about energetic effects. Normally, accelerating pretty well anything to the speeds at which time dilation effects become noticeable requires a huge amount of energy. However, once the particle is moving near light speed, Newton's first law tells us that the particle's velocity will be maintained without further expenditure of energy. Now, admittedly, time dilation requires acceleration rather than merely speed, but for my own purposes, I assumed that the tempo field acts like speed under Newton's first law—that it is self-sustaining without any further expenditure of energy. Hey, it's all new physics anyway, I should be allowed to tinker with its conditions to get something that I can use!
One of the first issues that arose for me is how can the field be confined to, say, a single person's body? And would it extend to include objects they held onto? And what about the air they breathed? Would that also be slowed? And what if it wasn't, would that even matter? So one could reasonably assume, I determined, that the field could be contained by sudden changes in particle density. That way, when the particle density dropped suddenly, at the outside surface of a person's skin, for example, the field would disappear. Then, objects that were being held would be included in the field—they would also experience a slowing of time. It seemed likely the field might leak a small distance from the density edges. This would mean that air in the lungs would also undergo slowing. This might be important since air molecules have vibration frequencies that we know work with the human breathing apparatus. It seems possible that changing these frequencies might have unexpected health consequences. So it is probably better that the air molecules are also slowed down.
How much time slowing could be allowed? And how would the rate of time slowdown be determined? Again, I assumed that it was a dialing issue. That is, that the technology could be set arbitrarily in such a way that it would allow one to select a rate of slowdown (a value of tempo) that could then be applied uniformly across the field. I assumed that a tempo of one was realtime, and that slower tempo corresponded to higher numbers. Hence a tempo of two meant that time was slowed by a half. Since the field would be applied uniformly, the whole body would behave consistently within the field. There should be no immediate problems as a result. Could the tempo rate go arbitrarily high? Perhaps that would depend on the environmental interactions and the energy required.
Working out what these might be also required a great deal of thought. What happens to the gravity field within the tempo field? Or other physical fields, the electromagnetic field for example? What happens to sound when it enters and leaves the field? And what are the social consequences of the ability to apply a tempo field to one's body? Is there an etiquette for when it is appropriate to do so? What does a society of people who function at different tempo rates look like?
Let's examine these questions one at a time, beginning with the electromagnetic (EM) field. I assumed that the EM field would be affected. Essentially, it would be red-shifted, since slowing time should correspond to an effective decrease in energy. So EM radiation would lose energy on entering the field and gain energy on leaving it. This has important consequences, especially in a science fiction setting. Essentially, the tempo field could act as a kind of shield against high energy EM fields. Such as one finds inside stars. As a result, humans can function inside high energy environments if they use the tempo fields. So, what about gravity? This is a different story, since gravity is bound up with the structure of space-time. It is not a field in the same way that electromagnetism is a field, that is, it cannot operate independently of space-time. So I assumed gravity might be affected, but not in the same way as EM fields. And remember, the basic effect underlying the tempo field is a change in particle spin-states, that is, it concerns the physics of particle interactions, not the structure of space-time. I shall come back to this issue another time.
Regarding sound. Sound is the result of successive waves of compression and rarefaction of air molecules (or of molecules in other propagating media). It would be reasonable to expect sound waves to slow down also, both their propagation speed and their vibrational frequencies, and hence to be experienced internally more or less as if one were functioning in realtime. However, I have assumed that the transformations involved, that is, the transition from the sound vibrations outside the body to those inside the body, may introduce some distortions into the sound perceived. This seems likely, since the sound will transit at slightly different locations along the skin surface, and hence some small delays may be introduced that affect the sound quality. As a result, interpreting what someone says can become more difficult. In my books, while under a tempo-induced field, people mostly communicate using another technology I introduced, essentially the use of subvocalizations or variations on mental imagery that are recorded and transmitted electronically. Normal speaking is used almost exclusively only in situations where people are functioning in realtime (that is, rarely).
Another consequence of tempo slowing would likely be the ability to stay warm even in colder environments. Temperature is generally expressed as the rate of vibration of molecules. The difference between vibration rate of molecules inside and outside the body would change, and hence even low-temperature environments would be experienced as being warmer. In my books, people live and work in hard vacuum with only thin layers of protection, because they use tempo fields to provide a heat buffer against the cold experienced in hard vacuum.
Note that the introduction of tempo plays havoc on attempts to track events over time. Many different types of time need to be tracked to do this robustly: non relativistic realtime, proper time, co-moving relativistic time, subjective time, average tempo time, etc. and each timeline may slip, expand or contract with regard to the others. Sometimes events may seem to be re-ordered as a result.
Now, onto the social consequences of the ubiquitous use of tempo fields. Here, too, there are many, many issues. I have, for example, assumed that although most people use tempo fields, not everyone understands how the fields function and there may be some skepticism about possible health effects. Hence, generally, young people are discouraged from using tempo adjustment excessively in some cultures. Also, there will be a natural segregation of parts of the population functioning at different tempos. People who function on much slower tempos will appear to move like treacle to those at faster rates, and so for convenience, there will be separate spaces for populations using different tempo rates. I also assume that some norms will emerge, so there will be a "standard tempo rate" at which one can socialize with others. Overall, in my books, the standard rate is determined by the range of interstellar distances that are typically traversed by a significant part of the population. Hence, at first, when colonies were established only to distances of about fifty light-years, tempo settings needed to accommodate those distances were around a value of 50. At a tempo of 50, people could travel to distant colonies and return in a few years. At first the population would be Sol-centric, but over time larger portions of humanity might be expected to travel more. As the reach of humans extended, average tempo would thereby increase. Interestingly, if reasonably strong accelerations can be achieved with spacecraft, even if it takes several years to achieve large velocities, the total trip time wouldn't change significantly.
I assume societies in which there are a variety of mechanisms for ensuring individual safety despite the use of tempo fields. Ubiquitous sensor nets that can provide data on encroachments on personal spaces, for example, with some provisos and constraints to protect individual privacy. The thing with radically different technologies such as tempo fields, is that to function effectively there would need to be a range of other technologies and/or social conventions or laws in place. There would need to be communications techniques that would allow a person to invite another to change tempo. There might be mechanisms to force a tempo change in an emergency (although that would provide opportunities for abuse, too). Another consequence of a society which, on average, lives on slow time would be that health conditions could be dealt with more quickly. A person would reset tempo to unity while they were healing. Long recovery times would have little effect on ongoing commitments. Time experienced by the individuals, however, wouldn't change, only the perceptions experienced by others. One can't prolong life by using tempo, but one can prolong the time as perceived by other people. Hence some individuals could choose to live extremely long lifetimes by slowing their tempos either continually, or in bursts. And if a person is severely injured under circumstances where medical help is not available, they could slow time dramatically in order to survive long enough for help to arrive. Indeed, some people might choose to avoid tempo fields and live in realtime. Their lives would pass by quickly in the perception of the larger society. Or a society might set their communal tempo to a faster tempo in order to accomplish more work than others who function at slower rhythms. The permutations are endless.
Readers may be interested in working out other consequences than the ones I have identified. As one can see, the range of impacts is huge, and hence the potential for story-telling is also huge. For my collection The Ido Chronicles, fifteen books are planned, although I have manuscripts for several more as well. I have had a lot of time to work out the consequences of tempo technology across so many books. But there is no copyright on ideas of this nature, and I would be delighted to see other writers harness the ideas for their own ends. Tinker with my assumptions as well–make different ones and explore where that takes things!