V for Vinicio
Lógico ("Live long and prosper, Earthlings")
Eulogy delivered on December 7, 2019 in New Hyde Park, New York (slightly edited for publication)
---
There are no facts about my father, Vinicio Morelli, which are not stories, interpretations, points of view. What we might call facts are but expressions of our will to power—our innate drive to impose order, meaning, and values on the universe, to suit our own ends. Everything I am about to say about my father will serve my purposes, just as everything he gave to me, my brother, and my mother—and the handful of lucky people on this earth who got to know him—served his.
Perhaps there are a few points we can agree on.
Fact: My father was born on September 24th, 1934 in the town of Albona, Italy, on the Istrian peninsula, just a few miles from the shore of the Adriatic Sea.
Let's stop right there. After the second world war, which Italy famously lost (Mussolini having allied the country with Hitler), the whole peninsula was given over to the newly formed nation of Yugoslavia, which broke up in the early 90s after another bloody war. Albona is now called Labin and belongs to Croatia.
Fact: My father's name was Vinicio Morelli.
Actually… our family name was originally Momić—a Slavic name—and my grandfather changed it to Morelli when he moved the family to Gorizia, which remained a part of Italy, after the war. A modestly successful businessman, my father's father had made some enemies, apparently, and it was a time to settle scores. He left in the middle of the night (having been tipped off by a friend) and arranged for the family to follow a few days later. They snuck off before sunrise to a car waiting for them at the edge of town.
Facts: My father studied economics, earning an advanced degree from the University of Trieste, but couldn't find suitable employment in postwar Italy, so in 1965 emigrated to the United States, following his older brother Romano, who had recently settled in New York. From 1966 he worked for the Italian Steamship Company, in the freight department, until the company shut down its North American operations in 1972. Again seeking employment, he took the New York City civil service exam, scored well, and soon received offers from various city agencies. He chose to interview with the newly-formed Taxi & Limousine Commission, got offered a job, and was assigned to the Accounting & Purchasing department, from which he would work his way up to Managing Accountant over the next 27 years.
Vinicio met my mother Gloria in 1972 in a small restaurant and dance club in New York City called German Town. Was it love at first sight? He was out with a friend, and she was out with her friends. He saw her sitting at another table on the seating level below. He was not a prolific dancer, but it was getting late. Why go out to a dance club and not even dance? He approached her table and asked for a dance.
My brother and I were not even gleams in our parents' eyes, but everything that followed—our very existences—depended on that moment. Both had work the next morning. He informed her that he couldn't stay very long. They danced anyway and missed their trains. My dad waited with my mom-to-be and her friends in Penn Station till the next departures at 5 a.m.
Facts recovered from post-traumatic memory: In 1941 or '42, a column of German troops passed through Albona with all their trucks, tanks, motorcycles, machine guns, et cetera. The town itself was not their target, but there were resistance fighters—partisans, anti-fascists—in the area, so the Germans occupied the town. They set up headquarters in my grandfather's house, which was conveniently located with a clear view in the town's central square. My grandmother cooked and the Germans washed up and ate with the family. They cleaned up after themselves and were very polite.
One morning my father awoke to see the bodies of two men hanging from the trees across from the family home. School teachers were also hung. Soldiers gathered up all the local men of age and threatened to shoot them if any German scout was attacked while reconnoitering the area. My father made his way to the line to stand by his father and was nervously shooed away. A few hours later, the scouts returned unharmed.
Another time, my father and few of his friends were out playing and found a hand-grenade that had not been detonated, with the pin missing. Some kind of dare was made and my father (who would have been about 11 or 12 years old) slowly approached the grenade and very, very gingerly picked it up… then put it back down.
There were more stories like that which my father, uncles, and aunts would occasionally tell around the dining room table after a big Italian meal including a few glasses of wine. Some of them my dad wrote down. Some he would never tell. They remain undetonated in a region of his heart I will never know.
One more felicitous fact: The name Vinicio comes from the Latin Vinicius, derived from ancient Roman vinus, as in vine, which the word wine comes from.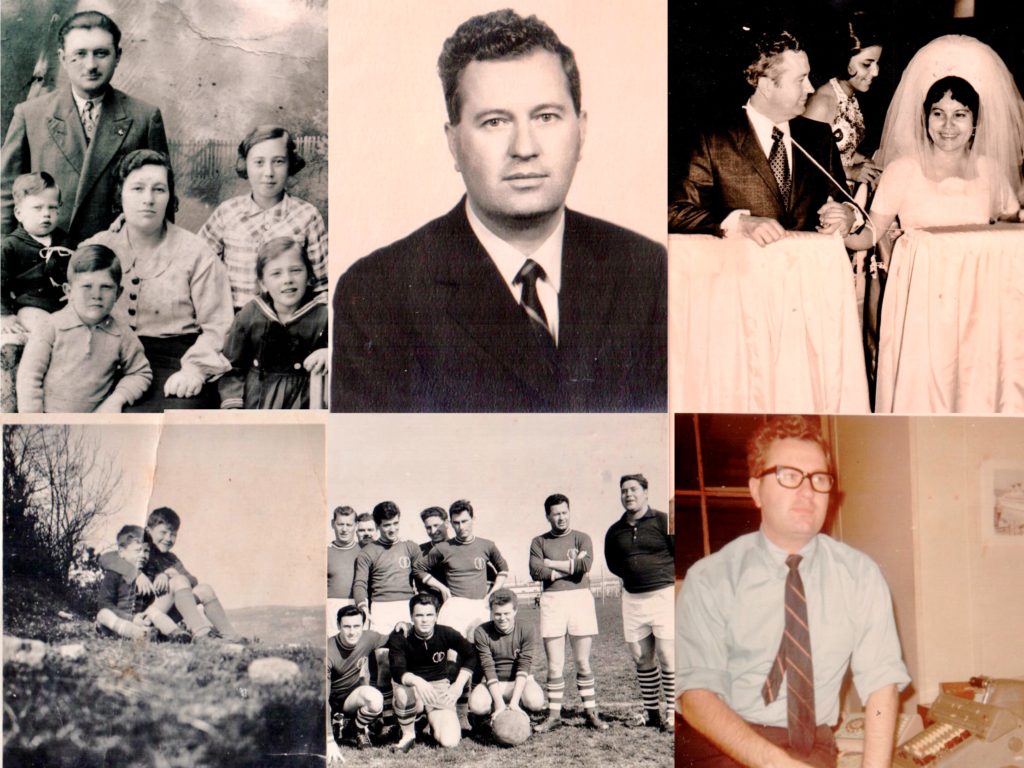 My father worked for the city for 27 years, commuting an hour and a half each way by bus and subway. Every night we ate dinner together as a family. Many weekends, I had soccer games and he drove us and was always there, coaching me on strategy.
Sunday mornings, he watched the games from Italy. His favorite team was the storied Turin-based club Juventus. He had strong opinions about how the game should be played and sometimes arguments broke out between him and my uncle. (Yet when they joked, my father laughed so hard that tears streamed down his wine-blushed face.)
Last summer, when I visited New York with my family, we watched a few of women's World Cup games together and he was impressed by how their style of play had evolved.
He was not particularly religious, but would accompany my mother, brother, and me to Christmas and Easter masses when we were young. His favorite philosopher was Friedrich Nietzsche, who famously declared that "God is dead." Nietzsche wrote (in the 1880s, regarding the modern world) that the decline of the Christian belief system, with its reliance on absolute and eternal truths, would lead to a prolonged and violent struggle from which a new kind of man would emerge.
This new man would not need reality to be fixed in one particular way, but would shape reality according to his own values, as a kind of artist. He would justify existence by saying yes to life—to the pain and pleasure, to the struggle of becoming who we are and were meant to be.
This new man would live in the spirit of Dionysus, the ancient Greek god of wine and fertility.
Nevertheless, in recent years, my father developed a great affection for Pope Francis and often watched Sunday mass from the Vatican on the Italian station. When I asked my dad about his views on current events, the elections, certain candidates, etcetera, he summarized his position by stating: I am against war. (This may sound simplistic, but I believe my father was a realist as well as a man of peace. He had little faith in the political class or the ruling elites.)
We talked most every week, usually about nothing, mostly the weather, sometimes politics, sometimes finances or home repairs needing to be done. My dad helped us buy our first home, and continued lending a hand whenever we needed. He obviously loved us all—wife, children, relatives, neighbors, friends—and would have wanted to see his granddaughters grow up.
The last time I saw him outside of the hospital, over the summer, he seemed content with his life. In addition to spoiling Mojo the family dog with ridiculous treats of soppressata and taking care of things around the house for my mother and my brother, he had gotten into the habit of feeding a couple stray cats and scattering breadcrumbs every morning for a contingent of birds, mostly sparrows, who had learned to expect him and would flutter down from the tree branches, hopping around our front yard on their little stick legs, chirping hungrily.
We went for walks, ate well, watched a few games…
I will miss him dearly.