XVI — Three black bags lay on the table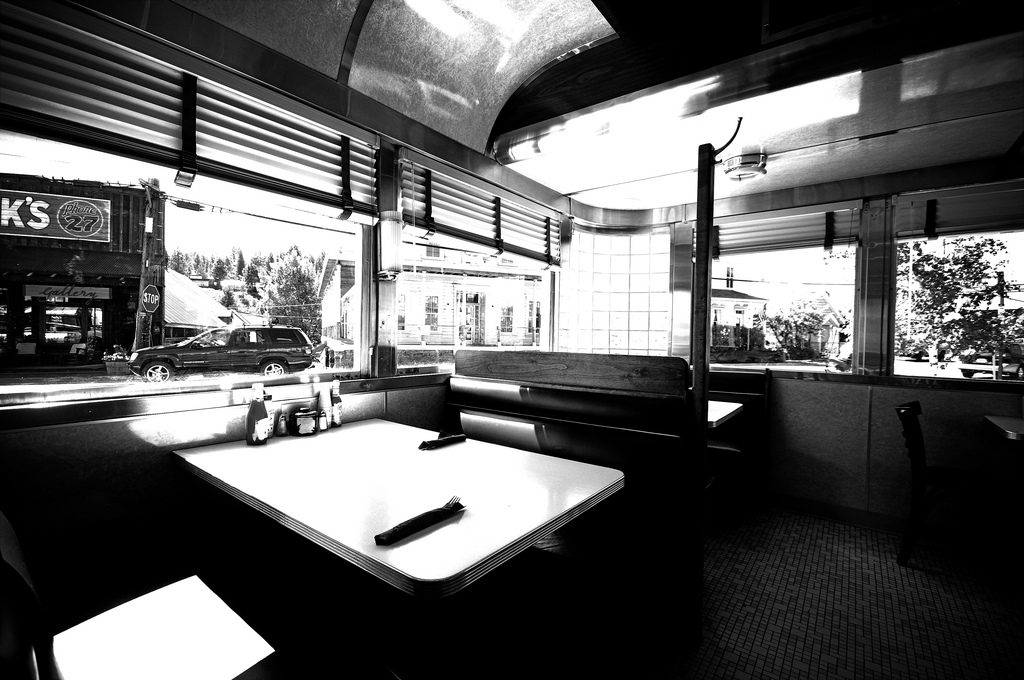 XVI
Three black bags lay on the table and the telephone was ringing in the back. That's where it was. The fat waitress leans on the counter staring out the window too lazy to get the phone. The phone keeps ringing and ringing and she shows no sign of getting the call. Hey! Hey! Go and get the phone. Fat waitress can't believe that a customer's talking to her like that. Moreover, she can't believe it's a guy in a wheelchair doing the shouting. Get the phone it's your job! You aren't just here to serve out donuts and coffee. If the phone rings and no-one answers the phone then you answer the phone! And no-one else is answering the phone. You go and answer it now! NOW! You're a little short tempered aren't you?
The wheelchair-guy turns to glare at me but doesn't reply. The waitress slinks off to get the phone that's still ringing. Black & White Tie shouts after her to bring more coffee. Hey. Do you ever have trouble getting your wheelchair under restaurant tables, I ask. He sighs and relaxes back a bit. Yeh sometimes and you still get restaurants with no ramp. When I come across a restaurant with no ramp I make it my business to wait outside until someone goes in and I ask 'em to send out the manager. When the manager comes out I give him, or her, sometimes it's her, I give em' a hard time and shake the chair around. Want to give the impression that with just a little more shaking I'll shake right up and take a swing at 'em. Then I ask the manager, or manageress if that's what it is, to get a couple of the cooks or whoever to lift me in to the restaurant, which they usually do, and they usually throw in a free meal to keep me from shaking around anymore.
This shitty restaurant has a ramp running along the front and a wide turning area at the top. Really light door that swings both ways. I never been here before and I won't be here again. It's too far out the way. I nod. Outside the day gets hotter. People waiting for a bus at the stop just outside, lady walking with a pram, couple of suited men coming the other way. Blue sky. Wheelchair guy's leant forward talking to Black & White Tie. Fat waitress is coming back out the kitchen. She's straightened her blouse and apron out. Maybe she's taken a piss? Did she wash her hands? Maybe she took a shit? She comes over to our table and looking a little nervous waits for my companions to acknowledge she's there. Which they don't. So I catch her eye and smile. Ummm there was a lady on the phone. She asked me if anyone was in the restaurant with a black bag. She waits for an approving look. She's got wheelchair-guy's attention now. We all got a black bag! Oh. I see. Well, the lady on the phone told me that if there was anyone with a black bag I should tell them this: meet me at the hotel. Midday. Bring the bag. Said she'd be in the lounge.
Which one of us are you talking to? Guy in the wheelchair gives her a like he means it look. Ummm. The lady just said anyone with a black bag. Well you must be talking to all three of us I guess! Can I have some more coffee? The waitress blushes a nervous blush and mumbles something about coffee. This hotel. They got a ramp at the front? Black & White glances up and past wheelchair guy and asks me the same thing: yeh. Do they? They have a ramp, I reply. But it's round the side. Main door's up a few steps. Revolving door. Must be the ramp comes up to the side of the lounge. Wheelchair guy shakes his head. So they expect anyone in a wheel chair to wait at this side entrance hoping someone who won't be using the side entrance just happens past to open it? No. There's a buzzer. You buzz when you want to go in. But it's still not enough for the wheel chair guy. He goes on: so they're too cheap to put in an automatic sensor and expect you to wait. Hoping someone heard the buzzer and can then be bothered to come and see who THE FUCK is buzzing! I take it that's a rhetorical question? It's a question. Well I tell you how it will go: I'll wait by the front steps. You two go in and tell the manager one of my wheels has locked up and you need help carrying me up the steps. Don't you think that's a little lame? Manager comes out. He's gonna look at me and him, I nod towards Black & White, he's gonna think that we should be able to lift you up just us two. He'd be right. And he's gonna think it's a little strange when he sees what we each have. Well that's the way it's going to be! Or it won't happen. She can wait all day with her thumb up her ass. There's no point in debating this so I tell the two of them okay.
Waitress is bringing coffee and we have a cup each. Black with sugar, black with no sugar, white with sugar. Black & White. This is good coffee. Guy in the wheelchair tells him to have a donut. Black & White declines. Wheelchair eats a donut. Waitress has disappeared. Wheelchair to Black & White: Tell me something about yourself. Black & White declines that too. I can see Wheelchair getting hot under the collar; starts to fidget around and animates with the empty cup. It's true. I had preconceptions. I had a picture in my head of this mysterious guy in a wheelchair with an ability to read your mind. In this version he was quiet, never spoke unless it was absolutely necessary and speaking is rarely necessary. When we make small talk what we're really saying is: I'm safe. You're safe. No threat here. Even between couples or friends most talk is a monologue. Each person trying to get their own version of the world out and listening as it comes back to them so they can check it and feel reassured they exist. Rarely interested in what the other person is saying and if you put them on the spot most of them couldn't say what the other just said. They're already preparing their next turn in the conversation; running through the delivery and the impact the delivery's gonna have. Not interested in what you're saying right now.
Wheelchair didn't match-up to my mental image of him. He wasn't restrained, he liked to talk and I doubted whether he could read minds. But it all might be a cover. If you were a mind reader the last thing you'd want to do is sit there looking like you were a mind reader. You'd cover it up. Who knows? I'm not a mind reader. My skills lie in a different direction. I break into Wheelchair's cup-animation: how you gonna get there? I'm gonna wheel me; how else? It's a long way. I wheel fast. Black & White asks if I want to ride with him. His car's parked around the back. Nice sleek looking thing. Glossy black with black alloy's, black glass. Even the lights are black. He explains how they manage to get the lights to look black and still work. Put your bag in the trunk with mine, he say's as the lid pops up. Nothing hiding in there. No-one hiding on the back seat. The door shuts itself behind me with a gentle whoosh. If you got your hand in the door or if there's a kid dangling their blanket out of it the door won't close. That's impressive I tell him. Door like that must be expensive. He grins to himself.
Click here to read the next section as submitted by the Author