FBI Returns Grave-Robbing Missionary's "Collection"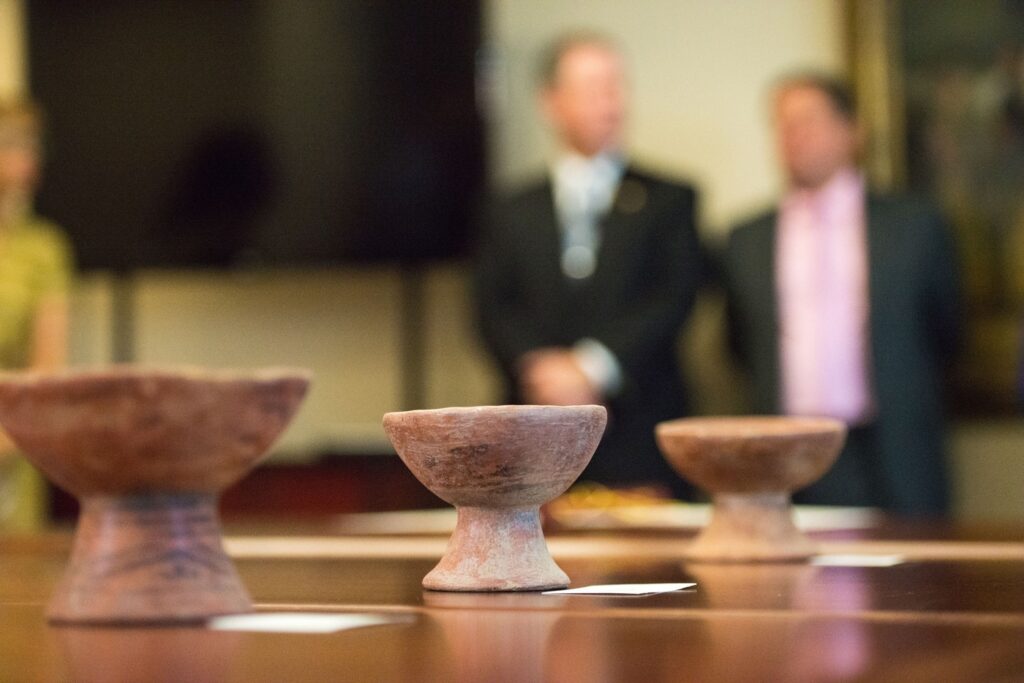 This article was originally published in the magazine Paradise in autumn 2022.
An FBI raid on a grave-robbing missionary; stolen sacred objects; ancient artifacts; hundreds of human remains; prehistoric monsters; an alleged chunk of Hitler's suicide bunker; fears of an atomic weapon in a remote farmhouse. And even, perhaps, the wrath of spirits.
It all sounds like an outlandish Netflix series, complete with a grisly episode set in Papua New Guinea.
The story starts with a puzzling, anonymous tip in 2014, when the FBI raided the home of 91-year-old Don Miller—a Christian missionary and former atomic scientist.
Agents found a basement, bunker and tunnels in the rural Indiana house, crammed with artifacts dug up by the self-styled 'archaeologist.'
"I was astounded. We found 42,000 items collected over six decades from all around the world," says Special Agent Tim Carpenter, from the FBI's Art Theft Unit
"It was the largest-ever single recovery of cultural property in the agency's history."
During a painstaking, six-day operation, the FBI took possession of 7,000 items and has spent the past eight years returning them to their rightful owners.
"We seized those artefacts that we felt were problematic, that were outright illegal or had been obtained improperly," says Carpenter.
The list of those items is also 'astounding.'
It includes 2,500-year-old Chinese jewelry, Ming Dynasty vases, an Egyptian sarcophagus, pre-Columbian weapons, Aztec, Mayan and Inca relics, Celtic axes, plus symbolic toki adzes belonging to a Maori chief.
Among the stolen, pre-historic items were dinosaur eggs as well as tusks from a woolly mammoth in Canada, which were up to 20,000 years old.
"We were sceptical about a shrunken head we also found and thought it was some kind of fake, tourist trinket from South America," says Carpenter. "However, scientists identified it as a shrunken human head."
"Miller's looting activity goes back to his early years in the 1950s and he was aged 88 at his last dig," says Carpenter. "Historic burials in the US were his favourite."
The raid recovered approximately 500 sets of human remains, largely looted from Native American burial grounds."
"Sometimes Miller would dig up the entire remains of an individual and other times he would just take the head and assemble the rest from a box of bones," says Carpenter "That made it really difficult to parse out the true origins."
The FBI learned Miller usually found artifacts by talking to the locals or by using ham radio for information that would lead him to burial sites where he could dig.
The international market for historic indigenous objects is "pretty robust" says Carpenter. A ceremonial Uli statue from the early 20th century was auctioned last year by Christies for 1.8 million euros. However, money was not the issue in this case.
"It's not about market value," says Carpenter. "FBI concern is cultural value and legality."
That concern was expressed in 2020, when the US ambassador to Papua New Guinea handed over more than 130 stolen artifacts to the country's National Museum and Art Gallery. The repatriated items included human remains, skulls, clay faces from an initiation ceremony in the Sepik, axes, daggers, drums and ceremonial masks.
"We know Miller was raiding burial caves and disturbing remains in PNG," says Carpenter. "He travelled all over New Guinea and brought back cultural items from both sides of the island. We have some items that have to go back to Indonesia for that reason."
"I'm not a psychologist," says Carpenter, "but Don told me very specifically one day that this was a 'heroin addiction' to him. That he just couldn't stop."
Nevertheless, Carpenter describes Miller as a "fascinating character" with a string of degrees and a history of prestigious achievements: "A really smart guy."
Apart from his missionary work, Miller was involved in the Manhattan Project during the 1940s and claimed to have detonated the first atomic bomb, using a radio system he developed.
Interestingly, the FBI had visited Miller's home years before the 2014 raid, following a tip he was storing a potential nuclear reactor.
"It turned out to be just a chunk of depleted uranium," says Carpenter. "He liked to embellish. We also disbelieved the claim that he owned a piece of the bunker where Adolf Hitler committed suicide."
Embellishment or not, tracking rightful owners and legal status of the seized items has been a huge task, involving Indigenous groups, academics, archaeologists, museum curators and other experts. The initial search and seizure included a team of 100 that had to be specially trained to handle objects that were often culturally sensitive and fragile.
To date, roughly two thirds of the works seized have been returned to Cambodia, Canada, China, Ecuador, Haiti, Mexico, New Zealand, PNG, Spain and across the U.S.
Miller died in 2015 and no charges were ever laid.
"He co-operated with investigators," says Carpenter. "It was his wish that we take these objects and return them to their rightful owners, and for the Native American ancestors to be reburied appropriately."
"In my culture, when remains have been dug out of the ground after being laid to rest, their spirits are wandering," says Pete Coffey, a tribal official collaborating with the FBI. "They cannot rejoin their relatives and family members in the afterlife."
Other cultures also hold this belief and some tell of curses or mishaps resulting from the disturbance of remains or the theft of sacred objects.
"Don never shared such stories, but our team all had personal issues almost immediately after the seizure," says Carpenter.
"You'll understand I'm reluctant to talk about it. We almost lost our daughter in hospital, my father died—just a series of things started to happen."
Carpenter recalls that tribal spiritual leaders conducted protective ceremonies at the time, because they were concerned about his health and safety.
"I was overwhelmed and humbled by the outpouring of support by the Tribal community," he says. "It was very compelling that they came forward and tried to keep us safe." "With our belief system I know it's easy to scoff and dismiss that stuff. I didn't pay much attention to it at the at the beginning. I'm not sceptical anymore."