IV — I wait here every day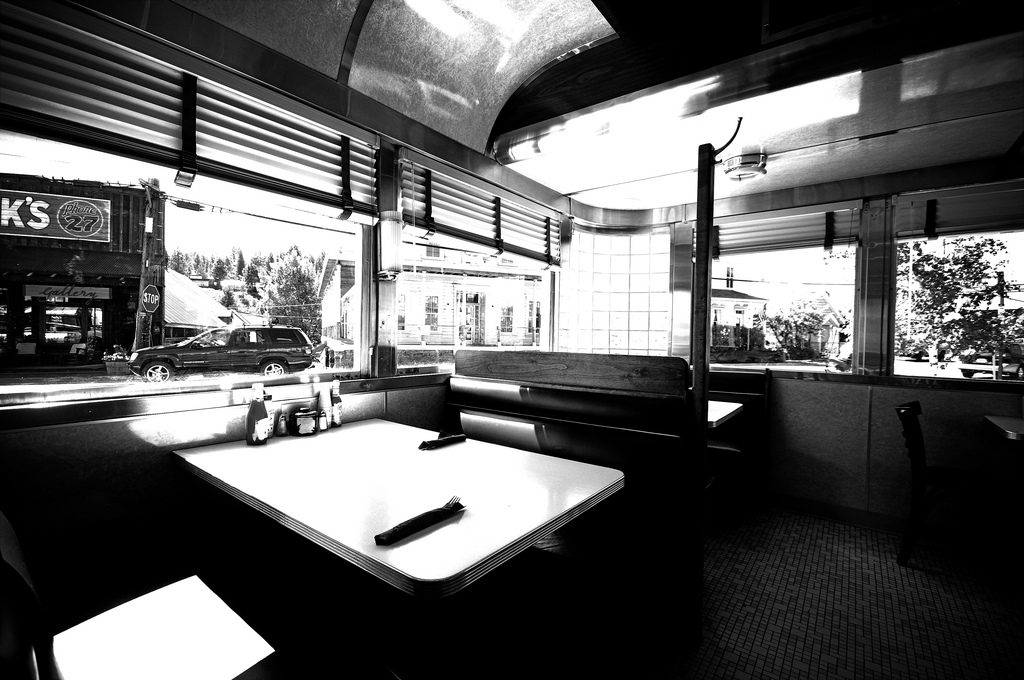 IV
I wait here every day for somebody to come in. Someone new from out of town and every now and then someone new appears. And these two are new. They're about my age and they both look friendly. They stand just inside the door looking about and wondering where to sit. I wonder if they'll wait for table service or come over to me. I'm tired. I don't want to look tired. My dress is clean and my hair is neatly tied into a tail. I smile at them waiting for them to catch my eye and smile back. One of them catches my eye and smiles back at me, quickly flicking up his head and eyebrows in a friendly way. I like his smile. He'll order a coffee. I think black coffee. The other one is smiling at me now and when I return the smile he starts towards me; looks away at the walls and ceiling. They both come up to the counter. I quickly check to see if it's clean and it is. The Boss doesn't care what this place looks like but I do. I know the outside needs cleaning and painting but inside I keep it clean and as nice as I can. It would be nice to get some table cloths. I think it would be better if we could get a set of matching vases and put one on every table with a flower in them. The flowers would have to be fake because nowhere sells nice flowers. If I could get them I'd put a white rose in each. They look nice and have bit of tradition to them. Yes, we have some soda and it's been cooled. And the toast is good. And so is the bacon and it comes with salad if you like and you can have eggs too. The eggs will be done how you like them and are always nice and rich. They look round still wondering where to sit. They go back towards the door and sit by the window. I watch them. Fuck you both. Fuck you both you shits.
I watch the woman behind the counter trying to catch his eye, but she catches mine first and I smile at her. Sometimes I walk into a place and hope that she'll be inside. Sometimes I walk into a place and hope that somebody inside wants to know me. Hopefully female. Petite and attractive with dark hair and for once: here she is. She must want to know me. That smile so warm it must be for me? It means she wants to be friendlier than a cup of coffee. Can I pretend? Will you come with us on our journey and leave behind whatever you have to leave behind? She straightens up a little and smooths down the sides of her flowery dress. She leaves with us and gets in the back of the car. She asks me to get in the back and fuck her while he drives. She asks me to kill her and roll her into a ditch. She brings our food out of the kitchen and puts it down with that warm smile. It looks as good as she said it would. We both smile at her and she smiles at us. He smiles at me and flicks his eyebrows up and I smile back at her again. She goes back behind the counter and starts to wipe down where the food briefly stood. I want her to look back at me but now she's going back into the kitchen. In the kitchen the cook slaps her face with the back of his hand, making her fall against the large steel sink unit. But she's used to that. The eggs taste fresh and the undersides are not crispy.
Out of the window I watch the town. This same sky, so blue and clear, connects straight to somewhere where I should be by now. How many people, having misplaced something or someone, have looked up to the sky or the moon or the sun and told themselves that the lost object watches the same view from another perspective? He tells me something. I agree with him. I ask him how his food tastes. He replies that it's okay. He eats out of necessity and not for pleasure. He eats quickly like it's another chore to get out the way. I like to sit and think and eat so that when everyone else has finished I haven't. It struck me some time ago that I could make a career out of eating slowly and notched it onto my carefully conceived idiosyncratic character. Truth being I couldn't care whether I ate fast or slow or slopped it all down my front like the mental patients I'd been privileged to meet. Under this blue sky we both sit and eat, and under the same blue sky she might be.
He asks me if I want anything else. Seeing as he's finished I guess that he's hungry and tell him to order some more waffles. I watch him go over to the counter and the waitress look up and smiles. He takes a long time to order waffles. They talk. He's not interested in her. She's not interested in him. They just talk. On the metal counter is a container of wooden toothpicks. He picks one and, holding it in his lips, rolls it from side to side, occasionally pulling it out and gesticulating with it in a short downwards motion. The toothpick gets more animated. When he sits back down there's an agitation to him; unease in his brow. I ask him what she said. He doesn't answer immediately and looks out the window. Whatever she said he obviously didn't like it. So I ask him again but he doesn't get a chance to answer. The Boss, and maybe this is also the waitress' husband, bursts out of the kitchen. Scumbag slob with black hair curly. Flat nose. Grease. Stubble. Fat fingers poke the waitress back against the counter as far as she can go. She tries to push out the other side and away, but can't. Only ghosts pass through solid material. She must have pissed him off big time, he says to me. What shall we do? I think about it. I slow time down a little so that I can work out what to do for the best. Then I run it fast forward so that I appear by her side and the Scumbag stops poking her and glares at me. This is another in a recent line of firsts: have you ever had someone shoot you in the face before? Not to my knowledge he replies. And before I could raise the gun properly he produces this chopping knife and slashes at me. So I shoot him in the throat. It doesn't kill him but it does make him mad. And probably scared. And with blood bubbling through gritted teeth he slashes again. I shot him in the head that time. And once more in the stomach. It doesn't bother me much. I sigh a little sigh that gets lost in the remnants of breath passing from his lungs. I don't find it in me to feel sorry for him. Or me. I stare a while. Messing with time. Speeding it up and slowing it down and we all get different effects.
The girl doesn't move. In fact, she's now part of the counter; she'll be around here for years. I look down at my clothes to see if any blood spatters got me. Then I pull the photo out of my pocket and stare vacantly into the kitchen. The glass windows on the swing doors need a clean. They're yellow painted with a layer of yellow cigarette tar. I hadn't noticed that earlier. They really are messy; standing out against the spotless serving area. I can't see what this man had been doing just before he died. But he was definitely pissed off. I stood a while knowing the photo was in my hand, anticipating it. I knew well that feeling I'd get when I looked down. The boy was still sat staring into the distance, with the cloth sack at his side; holding the top with his right hand; turned slightly towards it. The sack was all he had now. His world was in it, I could tell. He picked it up and looked after it for the next five years and only put it down again when it was time to mourn the sister he'd lost. She was still next to him with her head under the shopping bag. I hoped, each time, she slept. I hoped the bag wasn't hiding what I knew was there but the stillness of the legs, the position of the right arm: they belied the life left behind and so I mourned her on behalf of the boy, every time. One day I'd look at the photo and the sister would sit up by the boy, who would have put the sack to one side and they'd be smiling and talking together. But not today. This guy I shot had postponed that. As usual. The photo goes back in the breast pocket of my jacket. I put my hand on it on top of it on the outside of my jacket, just to let the boy know I'm always thinking of him.
Does the girl want to come with us and get fucked and killed? She wants to stay fused to the counter. I ask her why this guy was mad at her. I don't think she'll see things the same now. Turning towards the table and the door: He's up and smiles to the girl and waves goodbye. He holds the door for me and we walk outside. I shouldn't impose like that, he grins at me. The buildings around criticize me. They creak back a little. Murmurs of disapproval come quiet from within them. I don't feel sorry for me. I never feel sorry for people. But I feel sorry for the objects that suffer an imprint of my passing. The images I leave behind me. A trail of snapshots. Moments of panic on surprised faces that fly up and get absorbed by the land in a way that changes it for generations. Until the colored images fade and the land forgets. As I pass, other people's images long forgotten by the land seep back out and creep upon me. I know what went on in these flat open plains. In the woods and hills around them. I know what happened to the earth for the last thousand years and that's what makes me feel sorry. The seeping images feeding into me are same ones I leave behind. We drive out of town. The police don't bother.
Rain hides the road from us and all the other drivers struggling to find a way. They bunch around for comfort and between us we push aside the clouds for some long time. The clouds, struggling to find a powerful form, eventually lose their vigor; turning to rain elsewhere. I don't like the water left on the road. I worry the car will slide and the land hems us in; the grayness unbroken by any significance. Grey images shower the car. Some get through the glass and I can see the people on them. They draw to me and leave him alone. He pretends not to notice. There's a figure by the side of the road. Tattered. Wet and stamping its foot on the wet ground. Getting larger and darker. Straggly hair I think or it might be some rags flapping and torn. Or tendrils? The figure looms close to the windshield. It wants to hurt me. It recedes behind the mirror. The receding figure draws the water off the road and all of a sudden we're dry! The image trail dries up too. The rest of the journey is uneventful.
Click here to read the next section as submitted by the Author