VIII — There's a spider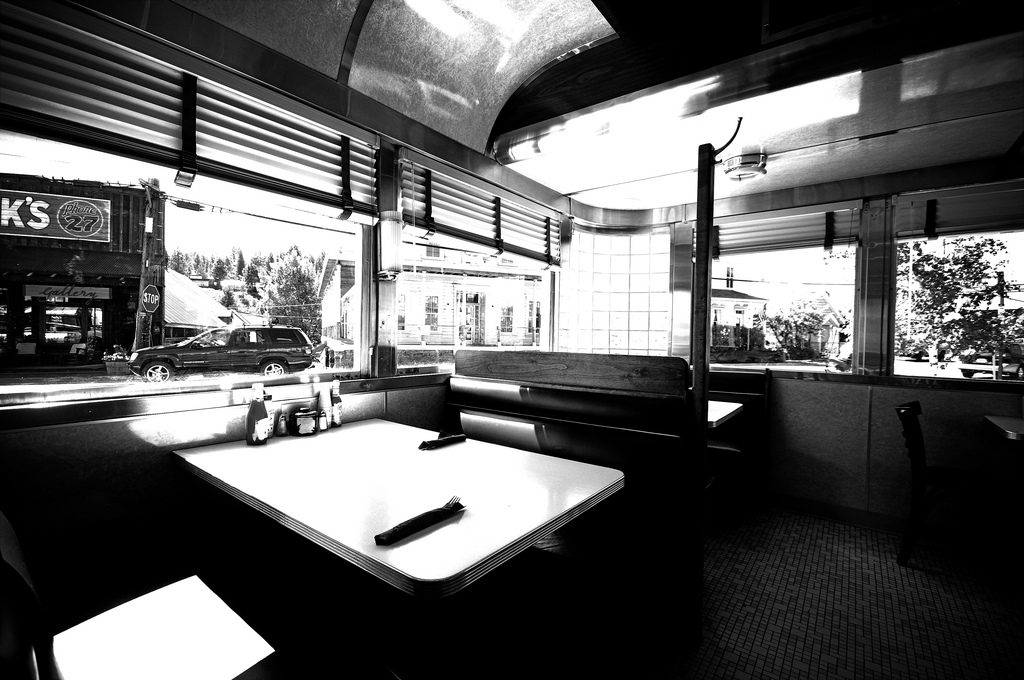 VIII
There's a spider crawling on the counter. Scratch its way over my hand if I stay still, but if the fucker tries, it's squashed with the ash-tray before it can say crimson. Sometimes I reckon the whole place sounds like it's crawling with a million spiders and if these two open the door before the spider gets to my hand it's gonna rain all Monday yeh that's right: all day Monday. Look around for the best spot; well they're all the same and as soon as you notice that I'll pretend to notice you. By the window? How original! Why not huddle up in the back and give me something to think about? So Monday's dry. That's a bonus! There's a whole world outside. I know it. I read about it. Why are you here? What are you doing? Get the Hell away! Get out in the world and get the Hell away from that window! Perhaps you can give me a ride to the city and then things will be on the up. I heard you the first time. Have a look at these menus and then tell me what you want; I don't need a pad cause I don't write and can hear every word you say and the eggs taste like shit yeh and the coffee tastes like shit too. I want to see that place with the big tower want to go do the bull-run in what's that place? And with luck I'll meet a girl and that'll be that. But that won't happen because I'm stuck here in the grey in fuckin' nowhere. But that don't stop me thinking that one day I'll pay this place my last respects and get the fuck out of here. Have what the fuck you like! It's all the same shit.
Rescue Me sits by the window; back to the door: Rescue Me's chilled. I sit facing Rescue Me and facing the door, with my left side to the counter and the right to the window. The table's round; wood effect plastic-coated melamine, dirty, dried up coffee spills, sugar. The guy behind the counter forces a smile at us; big false smile, big jaw with a good covering of fat to boot. Get a shave, fucker. Rescue Me looks up from the dog-eared menu and says: 'coffee.' The guy comes over, barely able to hide the fact that he'd kill for a little excitement. Eyes roll up looking for a sign that never comes. Well. I am the sign. In fact, today I am the sign and your luck is gonna change. But first get me a coke, a coffee and something in a wrapper. If the kitchen's as dirty as you, I'll get sick and probably fucking die. What's that? You can't imagine! You cannot begin to imagine? You cannot get close to knowing what it's like when somebody close to you, the closest person to you, leaves. Leaves the story, changes the story forever. Maybe you can? Hopefully I can help you. Turns their back on you for whatever reason and you turn your back on yourself. The best you can do is to try waking up as normal but then noticing you're stuck half-way out your body. Nothing fits! Nothing fits and you don't make sense anymore.
So this is what I'm going to do: when me and Rescue Me have finished our drinks and whatever other shit you bring us I'm gonna come up to the counter and pay and then walk back round the counter and go in the kitchen, through that swing door and I'm gonna hold a gun at your wife's head and take her away from you forever. Is that okay? The fucker nods. Then you'll understand. It's a hard life. Different. Comes a point where you forget if you were born different or one day felt different and adopted that feeling. Gets to a point where you start going in circles trying to work out which it was. I get the phone out my jean pocket and flick through the menu. Sounds, settings, calls, phonebook. Settings, calls, phonebook, sounds. Round and round and round just watching the words. Faster and faster. Sounds, settings, calls, phonebook. Sounds, settings, calls, phonebook. The phone doesn't ring. Everybody's unique. Outside, the occasional car struggles to find the road.
As soon as a car enters a town like this it gets covered in a layer of grey that finds its way through the air vents and into the drivers' lungs. The grey forms itself into a special kind of amnesia that affects the soul and the spirit: the spirit comes from elsewhere to animate the soul and the soul binds the body to the earth and its kin and blah blah blah. So after years of the grey-amnesia you can see the soul forgetting its job, and when the body finally forgets it's a body the spirit is obliged to go back elsewhere. But it goes weakened by the grey it carries and that spreads through the entire universe. Grey-amnesia is recycled. The people are all having their souls fail. I worked it out years ago but felt no better. The cars occasionally pull up and a man or a woman climbs slowly out; goes into a shop and stays there. An old man shuffles along the road mumbling to himself.
This is a dirty place, Rescue Me says. I agree; casting my eyes around for signs of newness or a patch that the dirt missed, but I don't find any. If it isn't under dirt it's under grey. Even the dirt is under grey under dirt. I drink lukewarm coffee. Oily patches film the surface and the color's indeterminate; no word for it. Then the vans appear outside on the road. First, the white one that says 'Reality' on the side. And then the lurid-pink van. Pair of scarlet lips on the radiator grill.
Where was I? Was I going to kill that guy's wife or something? I was! Okay. Watch this I say to Rescue Me and if necessary: step in and rescue me; that guy may have a knife up his back. The Fucker is just coming back out the kitchen and I ease up very very self-aware out the seat. Smoothly. So smoothly but the damn thing catches on my heel and tips itself up with a clatter. Fat Café looks over at me and susses it out. Let's try it again: I ease up very very self-aware out the seat. Smoothly. But the damn thing catches on my heel and tips itself up. Clatter. The Fucker looks over. Try again and I ease up very very self-aware out the seat. Smoothly and the damn thing clatters over off my heel. Fucker looks up and I start shooting the fucking chair. Now try that again you plastic shit. Meanwhile, the other Fucker makes for the fire exit. It just doesn't make any sense! Let me tell you something, I say. Just stop a moment. Listen to this: It feels like I've been going round in circles for years. I've been aiming for the drop off point for an eon and every time I get close I spin off round into another loop. I come back round again. I come close.
Now the Fucker is frozen solid and wondering what comes next. Maybe in a diminishing circle such that one day I can touch down and can shut off the engine. But that isn't happening. Some retro engines fire up at the zenith point and throw me back into the wider orbit. I come round again. I angle it down. I aim it on the center. And so on and so on. Are you following me? Fucker nods. This in itself reveals a truth just beyond my reach. I know it and it's a shared truth. You catch a glimpse of it in the eye of the man you passed on the road. The child buying those sweets. It has nothing to do with death. It's about the hidden order in all this chaos and we really don't have to worry. Back many years ago, in the conjectured Golden Age of Simplicity, scholars liked to imagine a closer truth that may have been there. It may not. But the premise in itself holds sway. Did they cry in the same way? When it was over for them, was it over the same way as we understand it today? A big question mark on that one. My bottle is nearly empty. There's not much time to solve the mystery. That's how I feel. And I have to get me to a place where I can at least buy to an illusion of the mystery solved. The Fucker blinks, and nods, so I continue.
There are etchings that draw us back to other events. They open up holes that are a mainline to times and places. There is a beauty in filling the mainline with a cheap chemical and a perverse idea. It's a defiance of values. A refusal of meaning. Etchings persist until something else erodes their features down to a smooth coin surface shiny at the core. Darker at the rim. I count rhythmically in seconds as close as I can manage. I wait until the effect arrives in full; I wait until the twirling streaming pink chiffon dancer hits the point of reflexion. Pauses, captures ecstasy for a moment and builds momentum pink streaming chiffon trail changes hue feet placed firmly. A moment of perfection. A split of infinity and time. There is another parallel dimension there. Academics try to explain the ineluctable. The fucked up moments. But they don't and they won't because the moments are just that; transient, fleeting, resist definition. But they still try. They say: we write; we can't talk about this. We can't write about it. But we are going to keep on trying to pin down this thing, capture this creature which defies form and reality and if we can't capture it then we will allude to it. We will loop round in a diminishing circle pointing and gesticulating toward that thing which can't be said. And when we get spun back out we will choose and use other words to dig new tunnels that undermine the thing. But when we surface and the tunnel is complete, what we find: the thing is sat waiting and staring at us. It jumps up. It laughs. It points at us a long, grey finger. It diffuses itself and twists away. It calls as it surrounds us, calling us to frantically spin looking in all directions: where was I?
Where was I ask the Fucked-Up Café Owner? He repeats what I had just told him, word for word. Ah! Okay. Well. We know this: it's not death. That's a plot device. Just a distraction. A device that makes us look the other way right at that moment when we should be staring squarely………. at……. I can't finish the sentence and he wants to know. I tell him be patient. There's no systematic squinting system in place. Is there? He nods, but I know he doesn't really believe it. Or doesn't understand it. We learn to read out of the eyes of the traumatized what trauma is. And people very rarely [even the ones with some augmented insight] rip off the cover sheet. To see what the next sheet says: it says: page number…………….where it begins. This is where it begins, for you, I tell him. He nods one last time. Then I shoot him in the knee. All he does is draw his breath in sharply and then tell me he saw that coming. He sits down on the floor. I watch that pile of barely-stable-waiting-to-burst-all-over-blubber-and-bone-amalgam disorganize itself, get in keeping with some entropic principle, re-organize itself, defy a universal maxim, compose across several different planes and then, keeping its left leg straight, struggle with a dirty bandana in its back pocket that it wants to pull out and tie around its knee to stop the blood. But it's stuck under its fat ass. Let me get that for you. When you've tied off your leg, we're gonna drag out to the car and put you in the trunk. Try and appreciate what we are doing here for you. You're gonna be better off in the long run. We're gonna leave you in a ditch. The blood leaves a trail across the café floor, out the back door, across the dust of the back lot. It attenuates to a hair's breadth before leaving just an intermittent trace by the time we get him to the car. I move the black bag over to one side and we haul him in bulging gut first. Slam the lid. This is a journey you're going on. A proper journey. He nods under the closed trunk lid, but I don't see it.
Click here to read the next section as submitted by the Author